Monday, April 13, 2015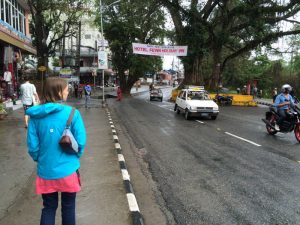 This was our day to prepare, and also site see. Pokhara is "the" place to be a tourist in Nepal, to the point of embarrassment. We saw so many people there trying to look the part of the world traveler, the spiritual seeker, the enlightened one going to Nepal to write their memoirs. Of course there are also a lot of college age people there just being themselves looking for the party. One of the funny things we saw a lot of was people wearing "authentic" clothing (so they thought) when in fact no Nepalis dressed like that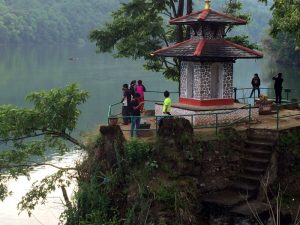 There is an upside of this for the people of Nepal – it brings in a lot of revenue. Tourism, trekking in particular is a huge industry there. For that I was happy because Nepal is one of the poorest countries in the world. In light of that, their happiness and positive attitude are an amazing surprise. I've been in other poor cultures and it's not like that. Yet in all the time I was in Nepal, not one time did they try to cheat me, short change me, or otherwise try to take advantage of the situation. They are an honest people for the most part, and it shows.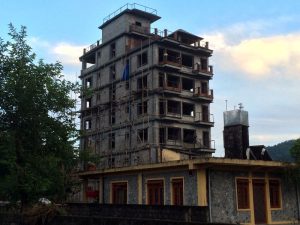 One thing I noticed was that in the home front stores that line the streets of the bazaars, if a storekeeper ducks back into his or her house, or is across the street, and a customer comes in to their shop two unexpected things happen. First, stealing seldom happens. Secondly, and more amazing, the neighboring storekeeper will yell for them to come back, rather than steal the customer, which they could easily do given the circumstances and the fact that often both shops have nearly identical merchandise. This was so refreshing to be around. Another thing that was refreshing was seeing how traffic, automobile and pedestrian alike, where courteous of each other.  Traffic there is crazy, but I saw almost no accidents, and no road rage. Like Nora told me: they just make it work.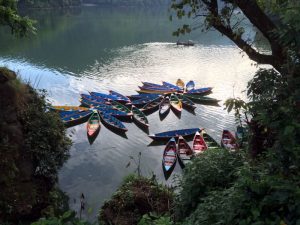 We went into many shops that line the streets along Lake Fewa in the Lakeside district of Pokhara, and most of them are trekking supply shops. Everything has a name brand label on it, and very low prices. They are, of course, fakes and knock-offs from China, India, etc., and you can tell it very easily by the feel and quality of the items. I needed to buy some base layer pants because I had neglected to bring any for the higher elevations.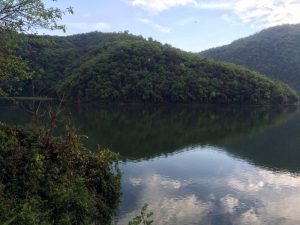 In one shop I tried some on and settled for what I thought would work, and they were cheap enough – a few dollars – but they were from China and in addition to being very small (a large barely fit me),  apparently men in China have no butt because the cut of the pants was so odd that they always felt like I had them on backward! Still they were stretchy enough and I was thankful for them. I also bought a "North Face" watch cap, just because… What really cool was that as we talked with the husband and wife who owned the shop they served us tea, then gave us popcorn that looked to be burnt black, but it was very good! As we talked we found out that they had a daughter in the nursing school at Tansen, and asked Nora to deliver a package to her. Again, a very peasant and different shopping experience that we just don't often see in the west.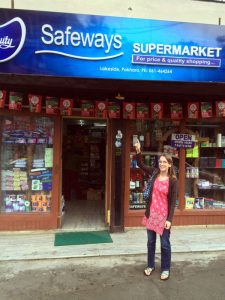 We walked along the waterfront for quite a distance, searched out different shops, and appreciated the names of many, such as: Safeways, The Irish Pub, Holy Book Shop, Help Mate Trekking Shop,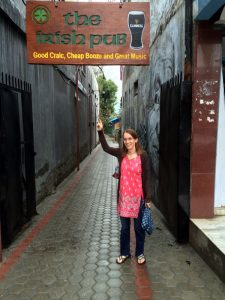 Social Meat Shop, German Bakery. On our return to Pokhara after trekking, we also found the local "WalMart."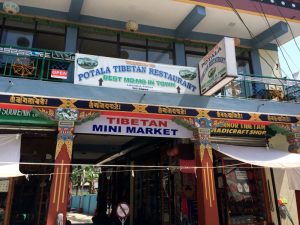 For dinner we returned to a Tibetan restaurant that we had marked out earlier in the day. Sacred Valley doesn't serve dinner or I doubt we'd ever have gone any place else. So this was a good chance for us to get out and try other things. The meal was huge, and well cooked (hot food is safer by far).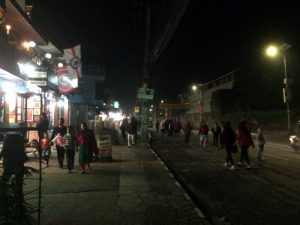 As we ate we started hearing a commotion out in the street. Everyone in the second floor eatery was jumping up and going to the balcony that overlooked the street, so we joined them. Bands of people were marching up and down the streets… celebrating… New Years Eve!
Nepali New Years Eve, 2072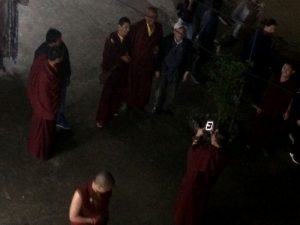 Yep, April 13, 2072 was New Years Eve in Nepal that year, so all of Pokhara was celebrating. Even so, I think it all calmed down by 10 pm. Nepalis sleep early and get up early. It was fun though, and cool to think that our trek would begin the next day, on New Years.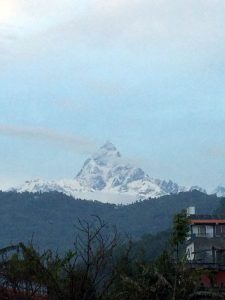 And with that, we went back to the guesthouse and went to sleep; our taxi to Nayapul where we would begin our trek to Annapurna Base Camp was arriving at 7:30 the next morning.