Sunday, April 19, 2015
Trekking Day #6
6:25 am – When we left Deurali the sun was still behind the mountains, and it was cold, but not extremely so. The Modi valley was in shadows, but up ahead the mountain peaks above Machhapuchhre Base Camp (MBC) had sun on them, and to the east, our right as we walked, we could see the glow of the sun. After about an hour and a half it broke over the peaks and spilled sunlight onto us and the trail to MBC where we would turn west on the last reach before ABC.
8:15 am – Machhapuchhre Base Camp is just a couple small guesthouses on the mountainside. Looking back at the trail we came up on, the other trekkers looked like ants. We visited with the guesthouse manager for about 15 minutes, and he tried to convince us that the best views were to be had at his establishment. We declined though and pushed on. The view became more and more amazing as we trekked the final two hours up a valley with peaks 20,000 feet and above on all sides! It was breathtaking… and surreal.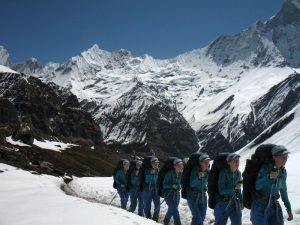 10:25 am – Annapurna Base Camp! Elevation 13,550 feet.  Suddenly there it was, a sign and flags welcoming us to ABC. It was now just a few hundred yards scamper to the base camp. I lagged behind, captivated by what I saw and taking pictures, so technically, Nora "won."
Arriving at ABC, out of breath and happy!
360 degree panorama of the Annapurna mountains.