Tuesday, March 31, 2015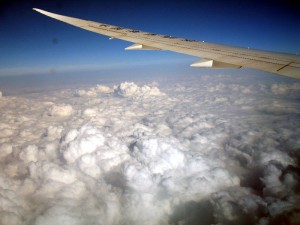 After flying for 13 hours with little sleep we caught up to daylight again, over China where the time was approaching late afternoon. I was tired but excited to get off the plane for a couple hours before flying to Nepal.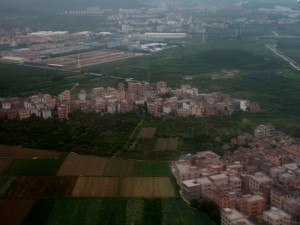 As we dropped below the clouds I got my first glimpse of Guangzhou. I was surprised by the integration of modern city dwellings and rural agriculture. As I stepped off the plain the hot air hit me in the face. In the terminal I was surprised to see the size of the (tiny) China Southern waiting area, somewhere on the lower level. I got myself situated for the next flight and while I waited I met an older woman who was also returning to Nepal to mountain climb! She was helpful about many aspects of entering the country, as well as full of stories about past expeditions she had been on. As a relatively new rock climber this was a fun and unexpected treat.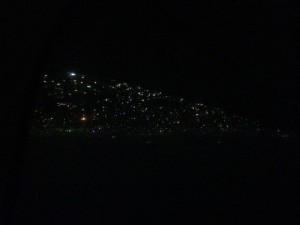 Before long the 2 1/2 hour layover was past and I was boarded for the final leg of my journey. This was a smaller plane with about 20-30 people on it. They served us dinner as the daylight gave way to night, and then (of course) a Bollywood movie played, which was too silly to even try to watch. I was seated next to two men – one young, one old – who where going to trek in Nepal. It turned out to be a father/son team, which I thought was cool. The almost 5 hour flight was very turbulent the entire way! It felt like riding a bus on a bumpy road, and that was great because for the first time since leaving Portland I got a couple hours of sound sleep! When I woke up we were near the destination (KTM) and I began to see lights on the ground from villages and towns as we dropped in altitude. I could tell they were small and poor just by looking, and it immediately gripped my heart. I knew I was in a very different place, but it was a good feeling… almost in a tropical paradise kind of way, yet that is not land-locked Nepal at all.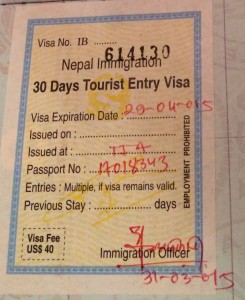 Once on the ground I went through the process of going through customs and getting my 30 day visa. It was a little confusing but the personnel were very helpful. Next I went to look for my luggage, which wasn't there, and I was told to come back in the morning when it would arrive on a plane from China. I exchanged some money, and finally went out through security and met my pre-arranged taxi driver, who had already been waiting for over an hour! None-the-less he had a super attitude about it as he stood there holding a sign with two little girls by his side. The taxis are super small, and he had his daughters with him because it was late at night and they wanted to come along. The two little girls sat in the back, and I sat in front, ducking my head so as not to hit it on the roof. Immediately I was struck by the oddness of driving on the left side of the road. He drove fast and weaved in and out of traffic, all the while hitting the horn and flashing the lights at every action. I was not nervous (and I should have been) but I felt such a strong sense of God's peace that I just sat back and enjoyed the ride to Goshen House, the guesthouse where I would stay before leaving for Tansen. At 1:00 am I went to bed after being escorted to the second floor room. It was nice, I was tired, life was good, and the next day I could get my first look at Kathmandu in the daylight!