Friday, April 3, 2016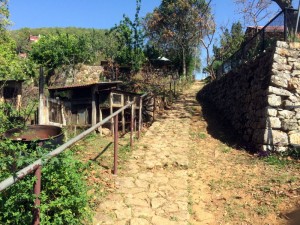 I started my first full day in Tansen with a Skype call to Eileen. It was good to be in contact after only a few messages while traveling and in Kathmandu. I also messaged with my son, Adam, who lives in Hawaii. Later in the morning I went up the hill (everything is up a hill in Nepal) to the schoolhouse and helped with a few projects there. The school is a one-room school (technically two rooms) and had students from Germany, Australia, America, India, and Nepal (about nine students in all). The parents of the students are medical staff at the hospital.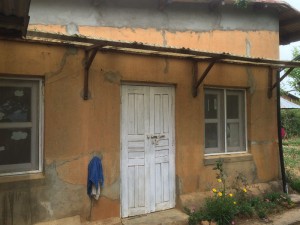 Somehow I managed to not take a picture of the front on the schoolhouse. After school Nora and I walked to some nearby shops to pick up some things she needed.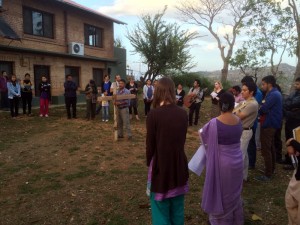 That evening there was a Good Friday stations of the cross celebration attended by about 100 Nepalis and expatriates. We walked to various locations around the hospital compound singing worship songs reading scripture. One Nepali hymn was so beautiful! I wished afterward that I had recorded it with my phone but I was so mesmerized by it that the thought never crossed my mind. The English translation of it was just simple praise to God, but it was truly awesome!
For a special dinner we walked to a bideshi (Nepali for foreigner) restaurant in the local bazaar. It specializes in serving meals prepared for foreigners, either the menu item available, or how it is made. It was very good, but I must confess that my favorite places to eat turned out to be the family owned house-front places that served Nepali food prepared in the traditional manner.
Below are pictures of what I know as the pink polka-dot plant (a favorite of my mom's in the US) that I was surprised to find growing all over the hillside near Nora's house. Below that are pictures of rock walls that are found everywhere. Terracing the hillsides is a necessity in Nepal and they are masters of stonework, some with mortar, some without.