Wednesday, April 22, 2015
Trekking Day #9
We were up early and down to the dining hall/kitchen before 6:00 am. It was a new building and the kitchen had a new oven, big enough for a man to lean inside it while he cooked. As I was waiting for them to prepare breakfast I looked out the window and the clouds had cleared. We had one last view of the Annapurnas with the rising sun striking their peaks, and it was spectacular!
7:00 am – Leaving Landruk wasn't too sad, it had been a good trek and were ready to head back to Pokhara. But we still had several miles ahead of us. The terrain was constantly changing now. We saw terraced farmland, crossed a broken down bridge that had been repaired by laying bamboo logs on it, and passed a primitive but working sawmill.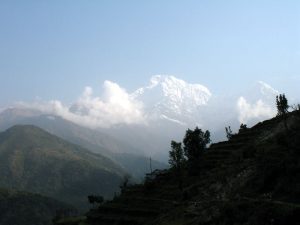 7:55 am – Tolka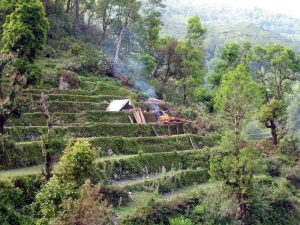 8:45 am – Bhichuk
9:50 am – Bhichok / Deurali (yep, the third one). Here we left the trekking route for a while and walked on the Jeep road. We weren't lost, just "powerful bewildered" for a couple miles. Eventually we found the route again and headed for Pothana.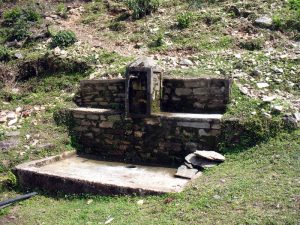 11:05 am – At Pothana we stopped for 10 minutes at the ACAP booth to sign out. Between there and Dhampus we passed through green pasture land that reminded both of us of Oregon.
11:50 am – Dhampus was the last major settlement before the end of our trek, another hour and a quarter of pounding downhill away. We stopped for 10 minutes at the TIMS booth to sign out and take a picture, before pressing on past a blue gate signifying the official boundary of the Annapurna Reserve (Blue is the color of the painted trail markers for the ABC trek.)
1:15 pm – As we neared Phedi we were racing a thunderstorm that was getting closer, louder and more threatening by the minute. We had run into some light rain off and on the day before and earlier this day also, but it wasn't too bad. Just enough to require rain gear and ponchos. We were glad for the end being sunny, but that was quickly changing. As we worked our way down the final winding stone steps I felt it would be close. These steps were like most we had encountered: randomly anywhere from 3-12″ in height and abundant! They seemed to never end, and going down was as brutal as going up. When we finally saw the roadway below us it had started to sprinkle, and by the time we got to the road the drops were getting larger. We took one quick end-of-trek picture and ran for cover… and it immediately cut loose like never before!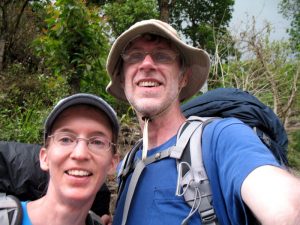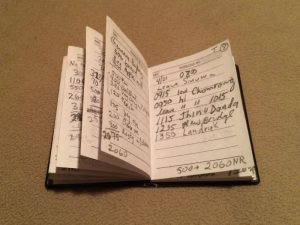 It had been a wonderful trek! God had blessed us with great timing on all of the weather, in particular having clear skies at ABC. We were told that it had been overcast for many days until we got there, and people had come and gone, never having seen the mountains.
After a little obligatory haggling over the cost of the taxi to Pokhara, we got one for 1500NR. (He wanted 2000NR which is what we paid on the way to Nayapul from Pokhara, and that's twice as far over much worse roads!) Nora was about to beat me though, thinking I might just walk a ways (and it was still pouring) but I had no such intention! It was time to go back to the Sacred Valley Guesthouse, hot showers and flush toilets, and their amazing food! The storm continued throughout the afternoon and we watched it from out room.
Watching the storm through our window.