Friday, April 17, 2015
Trekking Day #4
7:50 am – We left Siprong, crossed the Kimrong river and headed back uphill again. Dropping down to low valleys only to climb up higher again is the theme you get used to following.
8:15 am – Shortly after leaving Siprong we came upon the actual guesthouse that had been recommended to us at Chuile. It was much nicer, but we were glad we stayed where we did.
From there it was a little over two hours to Chomrong. We often encountered thunderstorms during the day, but fortunately they were always on the east side of the valley, opposite us, or we were able to outrun them. This was an advantage of getting an early start – beating the weather that came later in the day.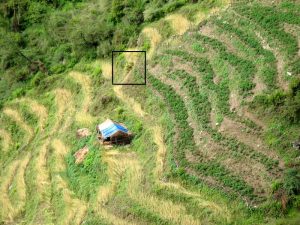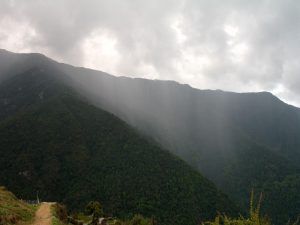 10:35 – Chomrong, where took a short 20 minute rest, is a larger settlement with many guesthouses and shops. It stretches from the top of the hill nearly to the bottom of the next valley if you count all the outlying houses.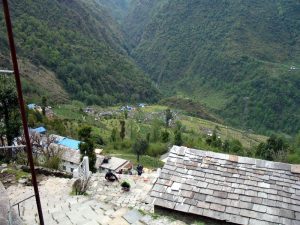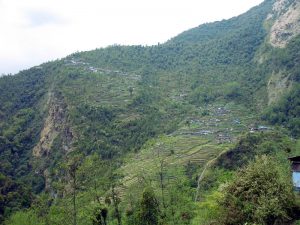 12:10 pm – Sinuwa came next. We later called this "fake" Sinuwa because found the "real" Sinuwa 50 minutes later, farther up the hill. We discovered that often there is an upper and lower section to a village, both by the same name.
Between the two we ran into a couple water buffalo guarding the trail – they kindly moved over a little. Just before upper Sinuwa we came across a sign – one of several – educating us on local etiquette. It basically said no more meat dishes from here on …or else!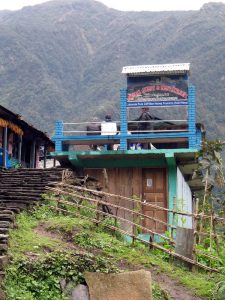 1:00 pm – Sinuwa Hill Top, the "real" Sinuwa… We stayed there on the return trek from ABC.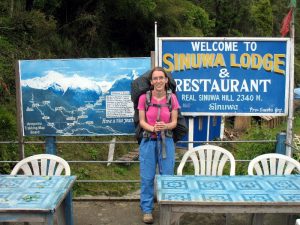 2:15 pm – Bamboo is a busy village with many guesthouses and lots of trekking traffic. Now that we were on the main ABC route there were a lot more people at the guesthouses. We actually liked the "backwoods" route we took between Tadaponi and Chomrong because it was less traveled. While we were there, a sad event took place, the airlifting of the body of a porter that had died down below Bamboo – wondered if we might have even seen him earlier at some point, but it was impossible to know. The rooms in our guesthouse in Bamboo were plain, but dry and clean, and dinner consisted of spaghetti and chow-mien.