Wednesday, April 15, 2015
Trekking Day #2
7:55 am – When we were getting ready to leave Ulleri we met Peter and Marjolein Vogelaar who were going in the same direction as we were and they offered to join up with us for a while. There was a light rain on and off in the morning but it wasn't bad at all. As you can see the uphill staircase continued…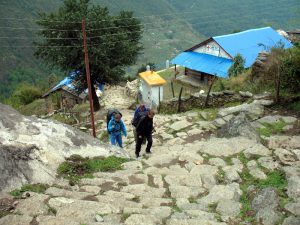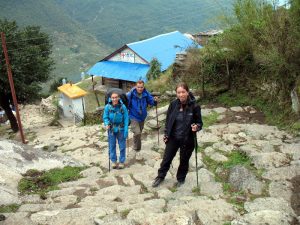 10:25 am – Passed through Nangethanti. After that we were treated to a forest of rhododendrons, and when I  say forest I mean trees! Red, pink, and white rhodies, covering the hills, and they were in bloom too!
11:30 am – Peter and I were lagging back talking when suddenly we looked up and Nora and Marjolein were standing in front of the arch welcoming us to Ghorepani!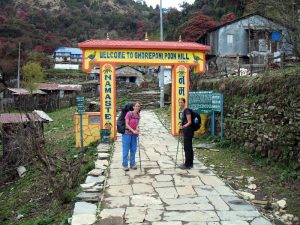 We checked into Hotel See You guesthouse (I loved the names they give things). This was my favorite guesthouse, with good food, and the room was only 200 NR including a HOT shower! Dinner was dalbhot and it was amazing! The common man's dish, when done right, is still my all-time favorite. Nora and I had a corner room in the back wing on the upper floor which gave us a great view down the valley from where we had just come.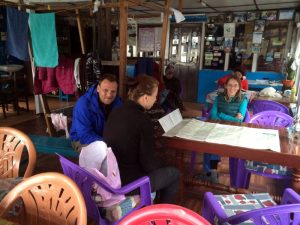 There were quite a few trekkers an hour or less behind us. Watching them coming up was a little sad, because an incredible rain and hail storm hit just after we got into our room! They almost made it in before it hit! Almost…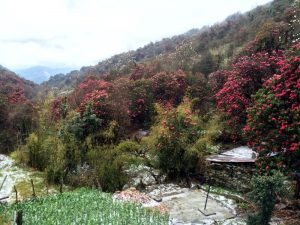 The only question was, would the weather be good at 5:00 am when we went to Poon Hill in the morning?