Somehow I feel that I will return to Nepal someday – maybe to help them. I hope so, I would love that…
My thoughts since returning are many…
I was gone a little over 31 days, or 748.5 hours, which somehow sounds like not that long of a time. I came back with a head full of memories, 2000 stills and videos, yet when posting this blog I was constantly looking for that certain picture, which I would discover only existed in my memory. Writing this blog has taken me back in time, and I have relived it all again – the good and the bad. There is almost nothing on earth for which I would trade the experience!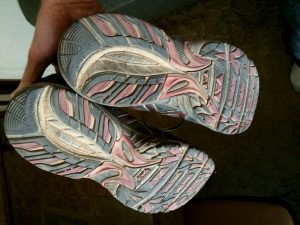 I'm sentimental. When I unpacked my worn out running shoes that I wore throughout Nepal, I noticed the dust on the bottom and I couldn't wear or put them away until I took a picture.
I still think about the ongoing support efforts in Nepal. Over a year later many are still living under tarps! United Mission to Nepal has been there over 50 years and is a worthy mission to support. You can give to UMN's ongoing mission via Interserve (tax deductible): http://www.interserveusa.org/give/. (Click on Enter our secure Online donation site here and specify "Project" and a dollar amount under Category & Funds, then enter the project number, "576073 UMN (United Mission to Nepal)," under Person or Project Name(s).)
I miss the people I met for only a few days a Tansen Mission Hospital. You can support the hospital in Tansen by going here: http://www.umcor.org/Search-for-Projects/Projects/13421A
I know we aren't prepared for an earthquake here. We are very similar geologically to Nepal, and we will certainly have a similar or larger quake. It is overdue, and could come today, or in 50 years, or more, but the risk should be taken seriously and we should prepare.
I have a "can-do" attitude about everything, earthquakes, whatever… if they can do it with so little and still have a smile on their faces, so can we.
I still think about where to throw toilet paper.
I try not to waste things more than ever, especially water, even though we have plenty here.
I go into alert mode whenever I hear or feel rumbling.
I continued to lose weight and have diarrhea for a week after arriving home – and I learned a valuable lesson. The full story follows…
The intestinal bug reemerged after I got home and didn't seem to be improving so I went to the clinic, but since my regular doctor was out I was sent to Emergent Care. They wanted me to pre-pay which I refused saying that I have paid my bills there for 35+ years and that I felt it was impugning my integrity to do so. A supervisor came around the corner and the conversation repeated. In past years I would have demanded my way, and become indignant and angry, but not this time… I told her I refused to pre-pay and why, and she understood but wouldn't bend. I sensed that she wouldn't give in when I made that statement and realized I might have to walk away. Instead of having anger over that, I had peace, and was smiling. I asked who was on-call that day, and the supervisor told me, said his office was next door, but added "they will require the same pre-payment." I thanked her and went next door.
At the on-call doctor's office I was confronted with the same issue as I explained my stance to the receptionist, who understood but couldn't alter the policy. About that time the doctor came by and overheard the conversation. He asked the receptionist what was going on and she explained that I had just returned from Nepal, had some issues, but didn't want to pre-pay. He stepped to the window and asked what problems I was having. I told him and he simply said that he would see me.
As I sat in the exam room waiting for the doctor I noticed a picture on the wall of a man plowing with water buffalo by the ocean. It reminded me of Nepal, but since Nepal is landlocked I figured it was some place else. The doctor came in and talked to me about my situation. He was very knowledgeable about the possibilities and ruled out the nasty stuff, then said that I just came back with a Nepali intestinal bug and that it should improve in a few more days. Then he asked if I had noticed the picture on the wall. I said yes, and he told me it was beside Lake Fewa, and that he was from Nepal, Patan (Kathmandu) to be exact!
I was so blessed to have been lead by God through these circumstances to the most appropriate doctor in the area! I was also thankful to be able to deal with conflicts in a more calm manner, and trust that it would work out – which it did. And, I did get better in a few more days.