Monday, April 20, 2015
Trekking Day #7
5:30 am – We got up early to watch the sunrise. It was, of course, spectacular as light poured around the peaks slowly adding color to the gray morning. As we stood out there in our light vests I struck up a conversation with a man who used to live in the US. He now lives in Europe, I believe, and he commented that we weren't dressed very warmly – he thought. About that time he asked where we were from, and when I said the Oregon coast in the US he immediately said "That explains it!" He had been to our part of the country and one of his memories was that we ran around without much on in bad weather.
7:15 am – We left ABC and headed down to MBC.
8:05 am – The trek down to MBC took 2 hours on the way up, but only 50 minutes on the way down. Below that we dropped into the shadows of the Modi valley again, until the sun rose higher in the sky. On the way we passed some slide and avalanche areas before Deurali.
9:20 am – We reached Deurali and took a 20 minute "rest" break, but it was more stalling than anything.
10:30 am – Himalaya was next, but we kept on going down, passing through beautiful scenery, both large and small.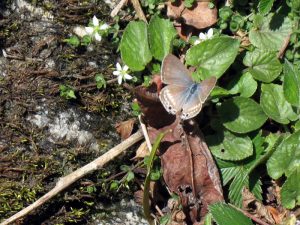 11:30 am – Dovan and another 20 minute "rest." The Nepalis are masters at stonework. They make stairs, pavement, houses, even roofs out of it.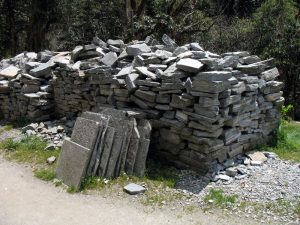 12:35 pm –  After passing through Bamboo the clouds came in. We kept our pace and set our goal as Sinuwa for the night.
1:50 pm – Sinuwa (the "real" one) was our first stop on the way down. What had taken over two days to ascend had only taken one to descend – in keeping with the twice-as-fast-down trend. Our room there was different from the others. It was all wood rather than stone, or stone and wood, and the wood was finished natural rather than pointed or unfinished. It looked like mahogany paneling and had ship-like look. It was cool and dreary outside, but the morning has some beauty in store for us.