Saturday, April 18, 2015
Trekking Day #5
7:05 am – We left Bamboo at first morning light because we were up, and because we were excited to get up higher.
7:55 am – Within less than an hour we reached Dovan. It had some very nice guesthouses! Beyond that the valley continued to get narrower, avalanche warnings were posted in risky places, we crossed narrow streams on makeshift bridges, and we were getting closer to the snow line! We came across another interesting etiquette sign…
9:10 am – At Himalaya we took a 15 minute bread break. Mmmmm! The fresh baked whole wheat bread we had bought in Chomrong the day before was an amazing pick-me-up. After two+ hours of heavy hiking we were feeling it, so we stopped and each had a chunk of bread, and instantaneously we felt energized! I wasn't psychosomatic, it was physiological, and we grabbed our packs and headed out Deurali with new life in us.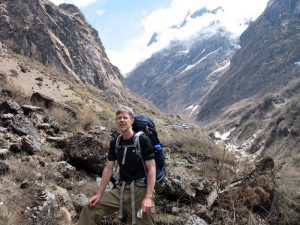 10:30 am – Deurali was an early arrival. We made really good time, as we had been all along the trekking route. When we compared how long it would take us to the times posted on maps we were always quite a bit faster. This segment was listed as 4.5 hours, but we did it in 3:10 without pushing it at all. My point is not to brag, or make it out to be a race, but we constantly noticed that our pace was faster than most – we decided that walking fast was just "an Oregon thing." We were also called "the ones with the big packs." (Well, we had no porters …and we're from Oregon. Ha!)
We chilled in the sun and had some potato fries on the deck overlooking the Modi river, with the mountains now towering above us. We also dried socks…! At about noon a storm blew up the valley, so we grabbed our washing that was hung out to dry and retreated to our room to wait it out, look over maps, and play cards. By evening the skies cleared again and the mountains grew dark.