Monday, April 27, 2015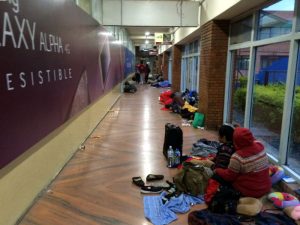 I woke up at 5:00 am after very little actual sleep, cold and aching from the hard floor and drafty hallway. I gathered up my stuff and wandered around. At the security check-in area people were sleeping on folding tables, so I joined them on one of the tables for a short nap. Getting up again I wondered if my flight would be in that morning, I thought about food (all I had eaten since lunch the day before was some trail mix), and I wandered around some more.
I saw Peter and his wife, whom we had trekked with (I thought I had caught a glimpse of them the night before), but we didn't talk nor did our eyes even meet. He was on a  mission to catch up with an official, and I was feeling antisocial. What a small world we live in! I didn't see him again, but we exchanged emails with pictures a month or so later.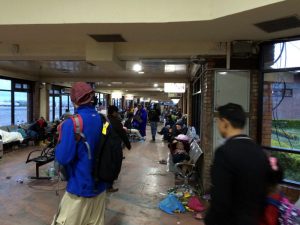 I stopped by the terminal snack-bar. There was really nothing there beyond odd Asian/Indian packages of junk food, and bottled water. The cooked food had sold out the night before. Bottled water was brought in some time in the morning but nothing else. There were also waters stations brought in to the waiting areas.
Something that I again noticed with pleasure was that Nepalis didn't price gouge. Bottled water remained 50NR throughout my time there, even when it was in short supply, and food was the same as it was in the "outside world." Contrasting this, a liter of bottled water in the Vancouver airport was $5.00! Shame on us…
I staked out a claim on a chair in the waiting area for my gate. The FIDS (flight information display) didn't show my flight, and soon we heard that the flight was delayed until around 11:00 am. As people continued to wake up, and more were let in from outside, the room quickly filled. It was possible to determine who was waiting for the same flight or airline by the messages to which they paid attention. I formed an alliance with a European couple near me which allowed us to check on flight information and visit the bathrooms without losing our seats. (It's the little things…) As the hours slowly ticked by it became evident that nothing was happening for me at 11:00 am. The truth turned out to be that my flight had been diverted the night before because the flight crew was required to get sleep before they could continue in service. (I was ok with that!) They had been diverted to a neighboring country (I don't recall which) for a layover and we were told to expect them mid/late afternoon.

While sitting there the main entertainment, besides people watching (and there was plenty of that), was scrutinizing the FIDS board. Flights would pop on, move down, disappear again, and reappear later. There was a pattern to the chaos of it, sort of… Announcements were made through a crude PA system that consisted if a microphone on a table in the hallway. Anyone could have grabbed it and said whatever they wanted. (Yes, I considered it. ha!) The benefit to us was that we could see who was talking, and they were the airline employees, so we knew who to corner and ask questions of when the announcement was about a flight or airline we cared about.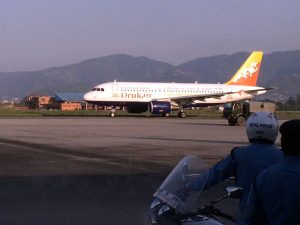 When each flight actually was on the tarmac passengers for that flight would be called to the gate via the PA. If anyone was missing from the flight manifest they would be paged by name. We then would play game called "Pick Out the Straggler" as we looked for someone pushing their way through the crowd. There would usually be one or two last calls for that person. At one point after a third "last and final call" had been made for a woman, we finally saw her being escorted rather abruptly by airline personnel through the crowed room. I realized that the entire flight (and each one after it) was being delayed, in this case for over half an hour while they searched for her throughout the terminal. To me this seemed highly inefficient – better to leave one and re-book them than to create a greater backlog. But I wasn't consulted on that one.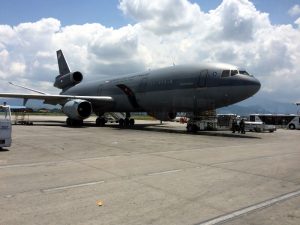 Meanwhile there were 10-12 flights circling above waiting to land. The KTM airport only has enough room for 10 (I think) jetliners at a time, so it gets crowded, and with the disaster relief flights starting to show up, passenger flights had to take turns.
In early afternoon everything came to a complete stop… not flights boarding, the FIDS board stopped updating, and we all just sat waiting. After about an hour a flight was updated on the FIDS board and the entire room erupted in applause! It's funny how fixated we had all become on that display, so much that there was a spontaneous reaction when it moved again.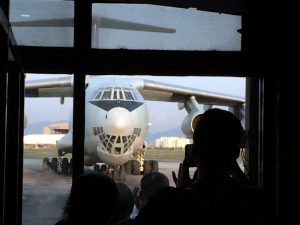 The reason for that long delay was political and diplomatic. There were international heads of state arriving and being welcomed by Nepali heads of state. India, China, in particular where some that I saw. When the Chinese military jet arrived, it pulled up directly in front of us. The jet engines were very loud, and they were close, maybe a bit too close.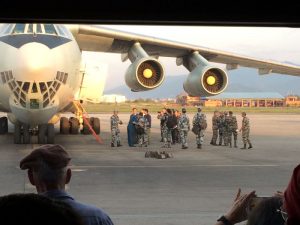 The Nepali military was there, armed and in jeeps, escorting vehicles off of the tarmac. Watching this unfold gave us all something to do, and a reason to move about.
Meanwhile the time ticked on, the trash piled up everywhere, and people were getting tired and hungry. When I say trash piled up, I mean literal piles of paper and plastic or foil wrappers, mainly from food and drinks. They were still out of food, but were vending drinks like there was no tomorrow. Everything just ended up on the ground and trash cans were overflowing. The bathrooms were beyond what I will describe here! It also was hot, and stinky might I add? Eventually a team of didis came in with large trash bags and hand brooms made from straw, and they began sweeping (more like raking) the piles across the room, around the people in chairs and on the floor. When the pile became too large to move they would bag it and move on. They were our heroes at that point and I was happy to move for them and help a little. One woman in particular caught me attention because as the sun was dropping lower in the sky she had moved out onto the tarmac and was sweeping the dust up off of it with her straw broom. It had the appearance of an exercise in futility and a sacrifice of love all at the same time. I wish I had taken a picture of that.
At about 5:00 pm something wonderful happened… fresh food was delivered to the snack-bar! Was there a stampede, elbowing and pushing (beyond the Asian standard), price gouging? Nope, not at all. Those poor workers though! The three of them were so maxed out as they sold food to us. I bought some chicken mo mos! I was so thankful for that and it refreshed me because the trail food had run out hours ago, and it was my first real meal in about 30 hours!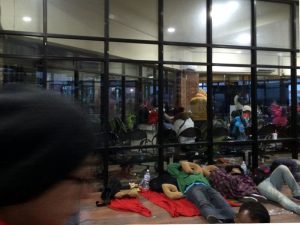 As I sat there eating I became aware of an older Chinese couple behind me. The husband was leaning on the back of my chair at times and it was annoying when his hand touched my shoulders but I didn't let it bother me because I felt compassion for them. The seat opened up next to me and his wife took it. When I finished eating I offered him my seat, which he declined at first, but once I insisted and put him in charge of the bag under my seat he accepted. I was fed, free (sort of), and thankful for the stretch.
As evening approached there continued to be confusion and frustration with flight schedules. I was amazed that no angry incidents had taken place so far. The closest we came was when a man confronted an Arab airline employee about something, exactly what I couldn't tell. Suddenly several others stood up and joined in the argument. This was directly in front of me and before long the employee was surrounded by 20 or so men, none of whom seemed too pleased. About the point when I was deciding what to do next one man waded into the group, waving his arms in a "calm down" manner, and speaking loudly. He continued for a couple minutes and slowly the group dispersed, and the airline employee looked relieved. That was it! Pretty amazing for the degree of angst and duration of time we were all there that it stayed as calm as it did. I should point out that we were all basically prisoners of the airport, not allowed to leave security for any reason, not having a plane to get on, no sleep and not much food. It was hot, loud, stinky, and a crowd comprised of people from all over the world with many different cultural norms. On top of that we had all been through an earthquake, some people were bandaged and hurting, and the aftershocks continued to remind us about that.
In all I would be there inside the airport for about 28 hours. It was awful. It was wonderful.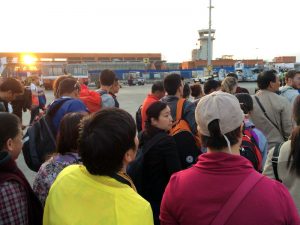 Finally my long awaited flight number reappeared on the FIDS board! I cautiously put some faith in that. Many "phantom flights" on China Southern had done the same thing throughout the day. But by 6:00 pm it appeared that this one was indeed my flight, that it was indeed on the tarmac, and that I would be boarding said plane.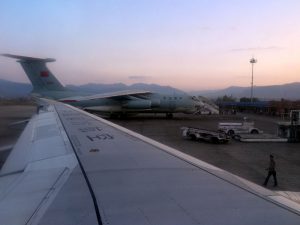 Once on the plane we sat for a very long time on the runway, waiting for clearance to take off, I assumed. Eventually we taxed past the Chinese military jet and took off!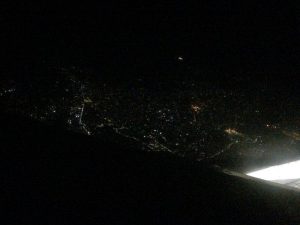 At 7:56 pm I looked out my window at the now dark city below and took one last picture of the lights of Kathmandu.
About four hours later I was in Guangzhou, China, where I had a 12 hour layover due to the rearranged flight schedule.