Thursday, April 2, 2015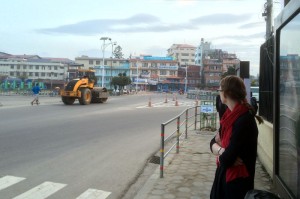 I woke up 2:45 am, though my alarm was set for 4:00 am, with a headache. I wasn't feeling too jet-lagged but I think the dust was getting to my sinuses. I had walked many miles in Kathmandu the day before. I was able to get back to sleep and then got up at 4:00 am, packed and ate breakfast, then walked to the location where we were to meet the Buck at 6:00 am.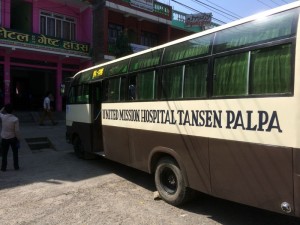 Normally the Buck runs from Tansen to Kathmandu every Wednesday and then returns on Thursday, but I had been told that it would be delayed this week do to a general strike, called a "bande" in Nepali, which would prevent it from keeping the regular schedule. The bande had been scheduled to lift Friday, which meant I would probably not go to Tansen until Saturday – costing me two days. As it turned out the bande was cancelled early, which is a common occurrence as well in Nepal. This was a great blessing, and relief, even though I was resolved to trust God for whenever I would be able to travel. There are around 30 political factions in Nepal, all vying for power to one degree or another, and sometimes a more powerful group will call a bande for a few days in order to make a point. During the bande most everything shuts down and it is not wise to try to carry on in disregard of it. Since they can be suddenly cut short, just as easily as they are called several days in advance, it can become quite a guessing game. But everyone takes it in stride; it's just part of normal Nepali life.
The ride to Tansen is more the nine hours on busy city roads that turn into rural roads, and are sometimes hardly roads at all. Our driver was experienced and, other than losing a kidney or two on the bumpy roads, it was a good trip. Except for one thing… the CONSTANT horn blowing was mind-numbing, and headache breading! Half way there we stopped for lunch, dal bhat for about 275 NR, and it was great!  I loved the food in Nepal.
On the Buck from Kathmandu to Tansen. Note the woman crossing the road - that is normal.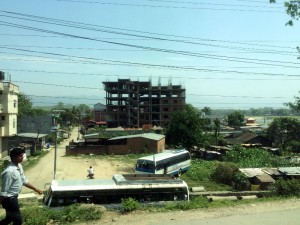 One thought that continually struck me as we drove through the countryside was how the construction there was all masonry with very little reinforcement. Many homes and buildings were in a continuous state of construction . They just run the re-bar in the pillars up through the roof and then tag on to them when they are ready to add on another story. If an earthquake were to strike, and one was immanently due, they would not stand. This thought foreshadowed what was to be the final even of my trip…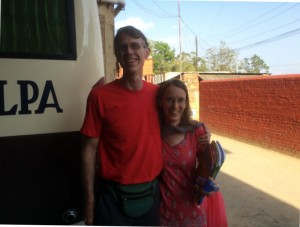 I arrived at Tansen Mission Hospital in the late afternoon, Nora met me there and gave me a quick tour of the campus, then we had dinner and talked until bedtime. It occurred to both of us that the visit would be over before we knew it, but it was really good to be there!
Pictures from along the way to Tansen. The Kathmandu Skyline at dawn gave way to towns and villages, rivers and bridges, and finally the sign telling me we had reached Tansen and the Buck being unloaded at TMH.